Unit Japanese paper tatami (laying type tatami mat)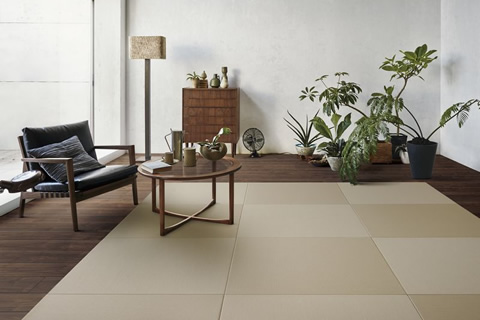 A "laying type" tatami that uses a tatami mat spun from Japanese paper and that is simply laid down on the floor.
Enjoy freely arranging an interior with a simplicity similar to laying a rug.
Japanese paper is processed on paper strings and coated with resin.
Japanese paper is woven together in a pipe shape to give the tatami mat its finishing.
There is also a rich range of variation produced through colors and weaving methods.
Type A...A richly colored tatami mat woven from weft yarn in two colors. (6 colors)
Colors
Type B...A tatami mat featuring the characteristic of texturing based on the image of wave ripples.
Colors
Specifications
Base material (tatami mat): Tatami board (insulation board)
Surface (tatami facing): Machine-made Japanese paper plain weave fabric
Rear side: Anti-slip sheet
Weight: Approx. 3kg/1mat
Price
Type A
・JPY ¥16,000 / 2mats (same color only)
・JPY ¥24,000 / 3mats (same color only)

Type B
・JPY ¥21,000 / 2mats (same color only)
・JPY ¥31,500 / 3mats (same color only)